About me
Published on May 9, 2023 ⸱ 6 min read ⸱ 85 views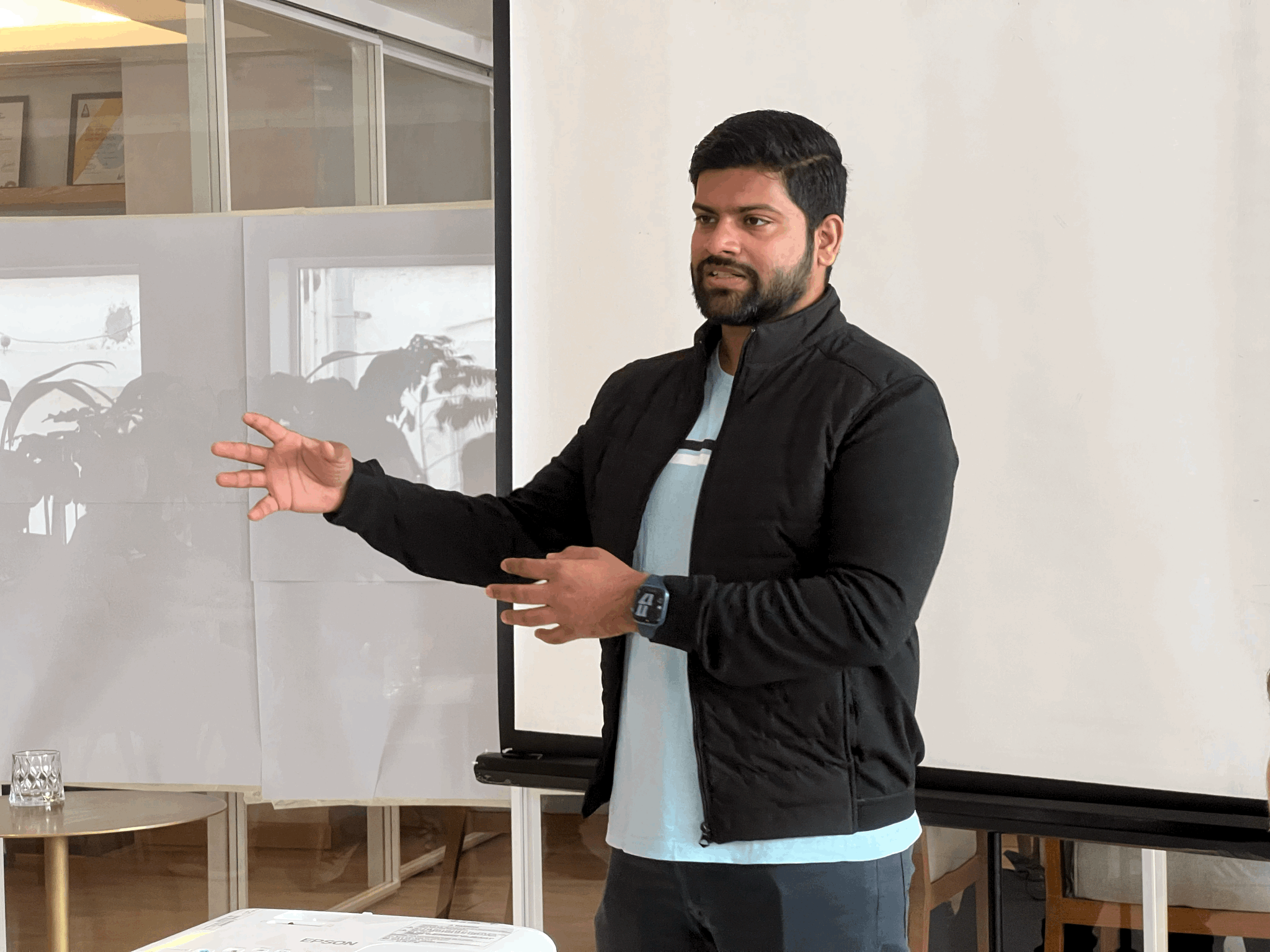 This page gets into some background about me, my motivations, my aspirations and more. This is literally the one page on the entire internet I talk about myself, so please excuse the barrage of first-person pronouns.
Introduction
I have more than a decade of investing and operating experience - across stages (idea to growth) and regions (India, Southeast Asia and Europe). I am a first bench student of business strategies and find history of businesses intriguing. My special powers (under development) are problem solving and building relationships.
Aside from startups and businesses, I have many muses including photography, astronomy (the moon 😍), robotics, hiking/trekking, travel, food and more.
My professional journey
I'm an accidental VC. For as long as I can remember, I've always wanted to be an entrepreneur, I wanted to build a business - one that outlasts me. I was terrible at finance, ok at math but really loved coding. Coding was the most fun part of doing engineering - the thrill of writing code and seeing it come to life and used by people, life changing experience! But I digress.
When I was graduating, I realised if I wanted to start up, I needed to get some basic financial experience. I needed to learn how businesses work, how finance works and how other non-tech aspects work. Thankfully, I was interning at ColdStar Logistics, the portfolio company of Tuscan Ventures, a family office of late Ashok Kapur, one of the founders of YES Bank. They took a chance on me and really let me make mistakes in my process to learn and improve. My foundation in investing was laid by the team - they were tough, demanding and super patient. At Tuscan Ventures, I was fortunate to manage and deploy dedicated capital in several startups.
I cofounded (PCWeb) with a friend but it didn't scale and was tough to sustain, so we shut it down. I learned so much in the process, that it didn't feel like a failure.
Later in 2019, I joined Xiaomi to lead their fintech investing in India, Southeast Asia and Europe. I'd always had exposure to teams from India, US and Europe before, but never from Eastern markets. Xiaomi felt like a great opportunity to experience a different perspective to building, investing and thinking. Working closely with Xiaomi's leadership was an eye opening experience. It was incredible to learn how to make quick decisions with limited data/information and own those decisions. The leadership was truly inspiring and I was grateful for that experience.
My career trajectory took a wild turn for the better when I launched my newsletter. The opportunities that it opened up were completely unexpected and unplanned. I just wanted to keep up with the latest in fintech and find it all in one destination - so I created the newsletter. I launched it publicly in Oct, 2020 as a way to externalise what I was already sending to the senior leadership at the firrm. Thankfully there were some organic supporters which helped the newsletter grow. Covid enforced lockdowns helped me keep up the cadence of publishing every week. Consistency is tough but the rewards are unbelievable.
I'm just so lucky that today, Fintech Inside is read globally by thousands of decision makers and leaders in financial services. Senior executives and fintech leaders from Amazon, Google, Apple, Facebook, a16z, CRED, EY, Groww, HDFC Bank, ICICI Bank, RBI, IDFC First Bank, NPCI, Matrix Partners, Nexus Venture Partners, Softbank, PayU, Razorpay, and more read the newsletter!
I joined Emphasis Ventures (EMVC), an early-stage, fintech-focussed venture fund, in 2021 - just before the more horrific second wave of covid struck India. At EMVC, I did a lot within a short period of time - made new investments, managed majority of the portfolio, did some work on brand building and much more internal work. The most important aspect of this stint was the partnerships I was able to build with the portfolio founders. It's the most gratifying aspect of work for me.
Random interesting facts: I've worked at a family office, a corporate VC and a fund. I've invested in pre-series A/series A with Tuscan Ventures, growth stage (Series B/C) with Xiaomi and very early stage (idea to series A) with EMVC. Across all this experience, my bosses have always been female! Who run the world?
Me as a VC
I find true joy in spending time with founders, be it helping them with a fund raise strategy, or working with their teams to identify better products or strategies, or helping them onboard the best talent or even plain 1:1 talking about their highs and lows. It is the most fulfilling aspect of work for me.
I aspire to be the highest conviction shareholder/board member on a startups' captable, but more importantly, one that's there with founder, even when they feel they've hit rock bottom.
My approach to "adding value" as an investor, is adding value if the founder asks for it. The best founders, usually don't need help, but when they do, I'm right there. If the founder doesn't ask for help, but I see things are not going well, I'm very direct and will be truthful with the founder. That, IMO, is being founder friendly - having enough of a rapport of trust, that the founder knows you're speaking in their best interest.
Why become a fintech-focused investor?
Without getting into the details, there are several reasons why fintech happened
The first ever startup I evaluated was a payments company - completely by chance. This was in 2013.
I believe financial services and logistics are the backbone of virtually every industry. Logistics is largely offline and cannot be solved with tech alone. Financial services on the other hand is still omni-present and needs tech.
The India financial services opportunity is massive and still underserved (yes, despite UPI). India's financial services macro indicators still remain largely similar.
India's GDP per capita has a long way to go and can only improve and grow faster if the masses have access to formal financial services.
I've taken a massive gamble on my career by becoming sector focused in an industry that prides itself in being generalist. But then again (see point 2), financial services applies to every industry and more so in India, for non-fintech companies can generate large pools of revenue from financial services.
There's so much more to say about the fintech opportunity but I could probably write a book about it, probably not for this format.
I'd love to hear your thoughts, feedback, comments on this piece. I can be reached at [email protected].
Onward.
---
Note: All blogs posts till 2022 were migrated to this platform (react+next+tailwind). While all efforts were made to migrate wihtout any loss, the migration lost some images and broke a bunch of links in old posts. If you spot anything amiss, please notify me?